254 bet is a legal sports wagering enterprise with operational license issued by Kenyan authorities since its inception in 2019.
It's been long awaited; having a web domain quite individualized and customarily football-based for teeming young and enthusiastic Kenyan gamesters. However, there's peculiarity as part of its image as oddmaker of Kenyan origin. Bet 254 Kenya is distinctively adorned with a 3-colour separation technique: orange, black and white.
Moreso, our thorough review unearthed lots of idiosyncrasies that brings lots of insights into the essence of having such superbly engineered sportsbook. Landing on the web domain shows a thickset orange strip lining sitting topmost of the web domain, wherein a few tabs (placed extreme right; Menu, Join Now and Login) besides long on-site search tool (center) plus bet254's corporate logo (placed extreme left).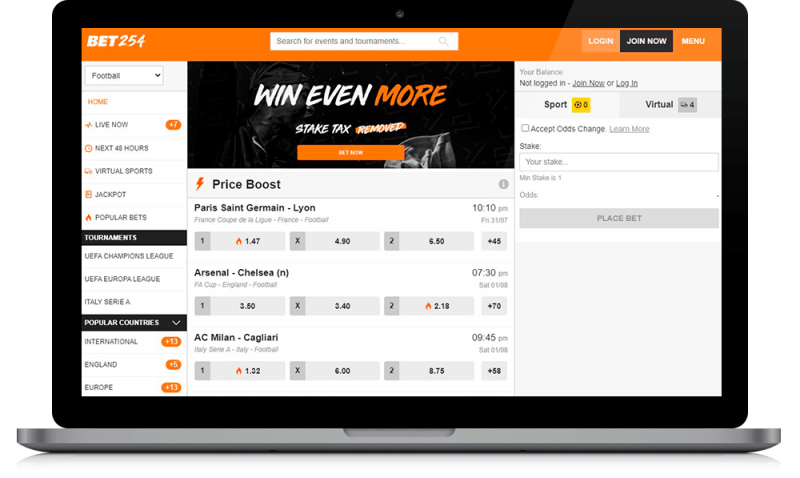 Adding to the descriptive mix are various segments that making client's wagering process complete. Starting from extreme left of bookmaker's web page you would locate its sports feature tab topmost (harbouring four major sports – football, tennis [lawn & table] plus basketball) alongside drop-down icon. Beneath the aforesaid tab is bet 254 Home segment which comprises chiefly, all game schedules across its 4 principal gaming activities as aforesaid.
Further beneath this segment is Tournaments section showcasing widely acknowledged European soccer leagues and tourneys. Lastly, the caudal segment is Popular and Other Countries, wherein every national soccer league worldover is listed.
The central portion of 254 bet remains its nerve centre of gambling fervours. Upmost of this central segment is the black-background broad ad banner with short tab to kickstart wagering.
Beneath it situates Price Boost function, then, followed by section dedicated for display of various sports ties schedule accompanied by distinct odd markets obtainable per game. To the caudal part of this segment would clients find the black Join Now tab.
To the extreme right portion, there's a betslip feature; login, menu and enrolment tabs. We wish to state that vis-à-vis odds, bet 254 has quite rewarding odds system with its least possible odds pegged between 1.40 to 4.55 for soccer-inclined bets, 1.11 to 1.43 for lawn tennis, 1.45 to 2.50 for table tennis; and 1.18 to 2.50 for basketball. However, these odds could fluctuate. Bet 254 Kenya is boasts of average high odds generally stuck between 2.50 to 10.00 or above which is dependent on bet-staking peak periods available per game.
When it comes to other functionality of various constituents of bet 254 one would be glad to have such a bookie in operation serving numerous bettors across board hitch-free.
Bet 254: Merits and Demerits
This phase of review commends a lot to be desired or not vis-à-vis variety of wagering preferences, features, and functions inherent in a particular oddmaker. Most times, punters look out for these idiosyncrasies before settling for any bookmaking platform. However, we shall start-off with merits of bet254; as seen below:
usability of price boost,
unproblematic step-wise enrolment process,
niceness of its bet254 jackpot,
spirited and responsive client support service.
Whilst, there're dissuading peculiarities rife on most platforms; we'd like to register our impression(s) as demerits:
paucity of sports marketplaces,
odds aren't adequately lucrative,
shortfall of payment options,
absence of bet254 app.
Bet254's Login & Enrolment
Gamer's express entry into his/her account is made seamless when such punter has spot-on login details to make it happen. To carry-on on this, you'd have to situate/tap the light pink Login tab positioned extreme right of its web page. Therein, you'd input mobile number and a 4-digit password prior to tapping long pink, Log-in tab on 254 bet.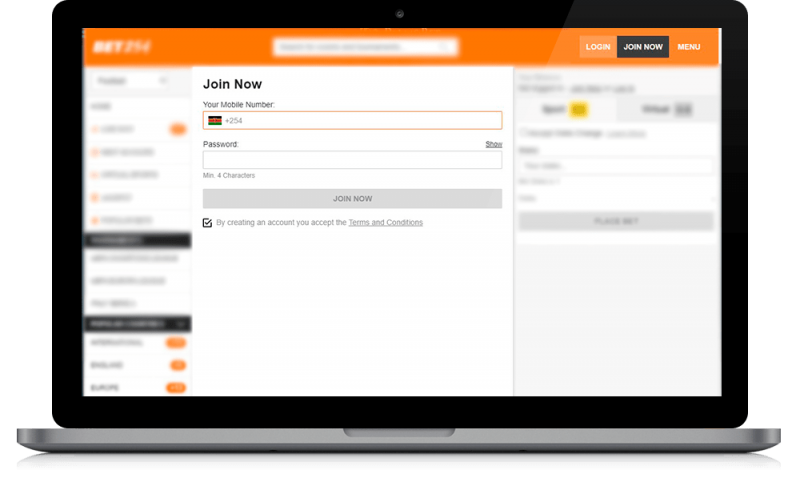 Vis-a-vis enrolment, we'd like to emphasise that it's the inceptive requisite step to actualising wagering needs on any gambling outfit by a client. On bet 254, to commence you'd have to locate a black-shaded Join Now tab sandwiched in-between Login and Menu tabs. Once opened, you're expected to insert mobile number, a 4-digit codeword before tapping the long pink Join Now tab.
Bet254 Enrolment Bonus
Albeit, we couldn't lay hold of any specific info vis-a-vis enrolment-based bonus. However, bettors could earn some bonus to the tune of two hundred and fifty-four percent. Going further, clients could wager 1 Kenyan Shillings only inside of two hundred and forty-five; which is presently reachable by any punter in post-enrolment phase on bet 254 Kenya.
Bet-staking on 254 bet
Achieving this entails entering bookie's web domain in any web surfer; then, situate/tap the light pink Login tab positioned extreme right of its web page. Therein, you'd input mobile number and a 4-digit password prior to tapping long pink.
Pick any sporting activity under sport feature tab situated extreme left on webpage or browse for clubs you'd prefer wagering on via the search button. Create your preference bets about thirty max., following formats showcased on 254 bet.
Therefore, accessing your bet options, tap the first digit closest to MENU title to get your betslip. Then, type-in the sum you've chosen to wager prior to hitting the bet tab.
Checking Bets Staked plus User Account
Get to the web domain, then locate/tap Login tab so you could insert your login details for seamless entry into sportsbook. Then, tap Menu tab seen extreme right, then, pick the option to explore on drop-down tray.
Jackpot
Bet254 jackpot of this oddmaker is fruitful which is about one million Kenyan Shillings worth. To enter for this ample opportunity; punter should proceed via tapping Jackpot link harboured within Home segment, then follow the step-wise protocol to finish.
Mode of Funds Pullout
Bet 254 Kenya affords quite an unambiguous funds pullout possibility. However, in the aftermath of a successful entry on the sportsbook, situate the Menu tab positioned on the extreme right, then choose Withdrawal from the tray, subsequently, insert your full name, followed by tapping Request Payout tab.
Consequently, insert chosen sum for pullout. Bear in mind that least minimum withdrawal pegged at two hundred Kenyan Shillings. whilst highest possible pullout sum is one million Kenyan Shillings.
Oddmaker's Funds Lodgement via MPESA Paybill Number
Move to MPESA Menu on punter's cellphone, then tap LIPA NA MPESA tab, subsequently, choose Paybill (bet254 paybill), prior to inserting 733338 as designated biz number; afterwards insert 254 once to be Acct. No., consequently, input preferred sum devoid of comma before inputting MPESA personal identification number prior to tapping Send.
However, client gets short message service notice averring transaction fruition.
Password Reset
Bet 254 password readjustment follows a process. In the aftermath of a puzzling but unfruitful login, Players with such difficulty should tap the Forgot Password link situated beneath the pink lengthy Log in tab. Once tapped, a vacant form pops-up where you'd enter cellphone number before tapping Request New Password.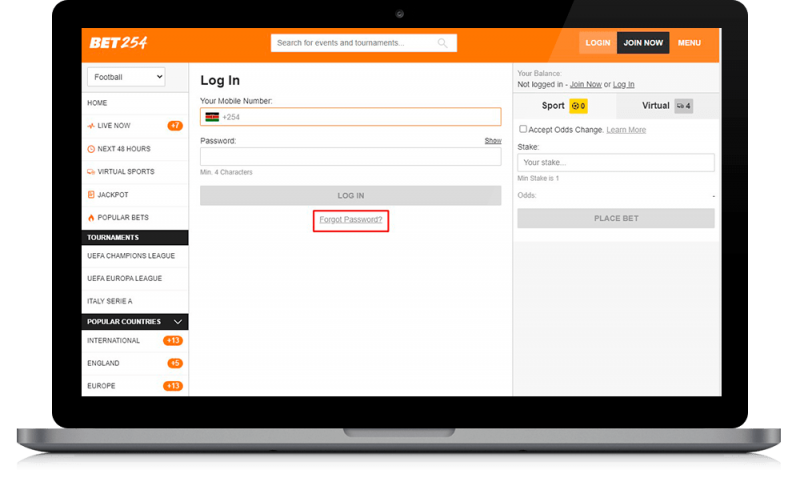 Consequently, a short message service comes in bearing reset personal identification number, subsequently, insert personal identification number before choosing a newer password.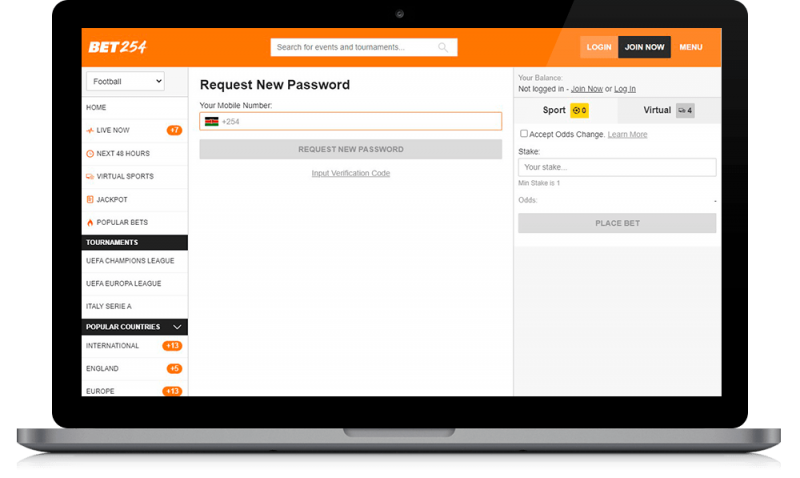 In-Play Function
In the aftermath of a successful entry into user acct. on Bet254, player would explicitly see the Live Now link within the Home segment positioned extreme left of sportsbook's homepage. If tapped reveals available in-play, then tap any on-going game of choice slated for wagering to know what options awaits therein.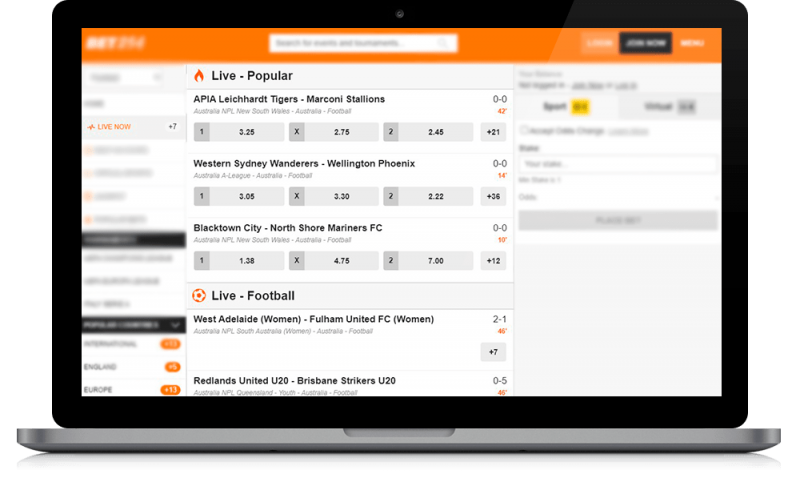 Consequently, pick your preferred option. However, tap zero sitting beside Menu to enable appearance of betslip; then input preferred stake plus summation of bet-staking sum before tapping Place Bet for completion.
Getting Other Sports Markets Using Sports Feature Tab
Applying the workability of this measure seem perplexing for users of both desktop or smart mobile devices. In the aftermath of fruitful login, traverse to the extreme left of bet 254 to locate the short sports feature tab with drop-down tray.
Once found, you'd see Football written in the tab's space, then tap the arrow button to see available sports marketplaces for wagering.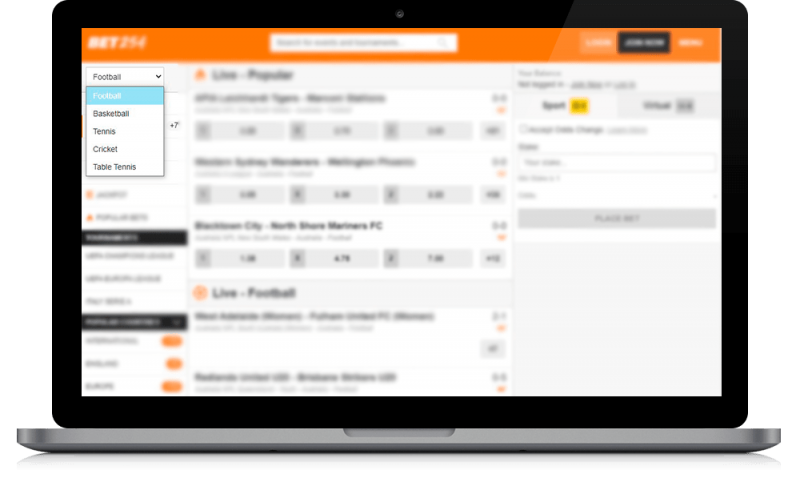 Bet 254 Mobile and App Download
Regrettably, there's absolutely absence of bet254 app download for gamers surely. However, any player could use the mobile edition of the web domain to actualise his/her gaming dreams devoid of complications.
What's needed is getting the correct web domain and inserting it into any chosen web surfer.
Availability of Bet254 Mobile
Bet 254 app isn't available but we could foresee that the oddsmaker could actually think towards making it actualised in the nearest future.
Client Support Service plus Safety
However, client service team designated and dedicated to solving client problems and concerns is key to the existence of/smooth running of bet254.
However, there're open communication channels to that effect through electronic mail: support@bet254.com; WhatsApp: +254 740837663 (chatting only); and via phonelines: +254 762791455, +254 711082009 for both airtel and safaricom subscribers respectively. Regarding client's data safety, there's no cause for panic due to a dedicated team of tech professionals established to thwart both internal and external security threats.
Summary
Bet 254 Kenya is a relatively new player on the gambling sphere in Kenya but have since gotten gradually embedded into the Kenyan market since its inception.
However, a lot needs to be done in affording gamesters real-time gaming experience seamlessly thru introduction of bet254 app.
Under whose ownership is the sportsbook?
No definitive answer is handy even after our detailed search and check, but they're truly licensed.
Does this sportsbook have operational license?
What's their paybill number?