Sportybet entered the Kenyan gambling ecosystem with a lot of gusto and vibe that many punters identify with. However, it garnered lots of support from Kenya gamblers to the effect that it's become a beehive of activities due to a dissimilar deluge of gaming events slated for wagering and accompanying lucrative odds.
Unlike other betting platforms whose main strength is football games; on Sportybet Kenya it's something different. Also, if you are an android user, an app is already built for your wagering convenience; though there's none made available for either Windows or iOS users. But liite and mobile editions were developed by bookie to capture Windows or iOS users, thereby making wagering uninterrupted and easy for everyone.
There's simple financial transaction channels made available for both funds deposit and withdrawal. If you're the type that loves simulated events here's the right spot for you; with extravagant promos that add spice to the wagering soup you consume on Sportybet Kenya daily.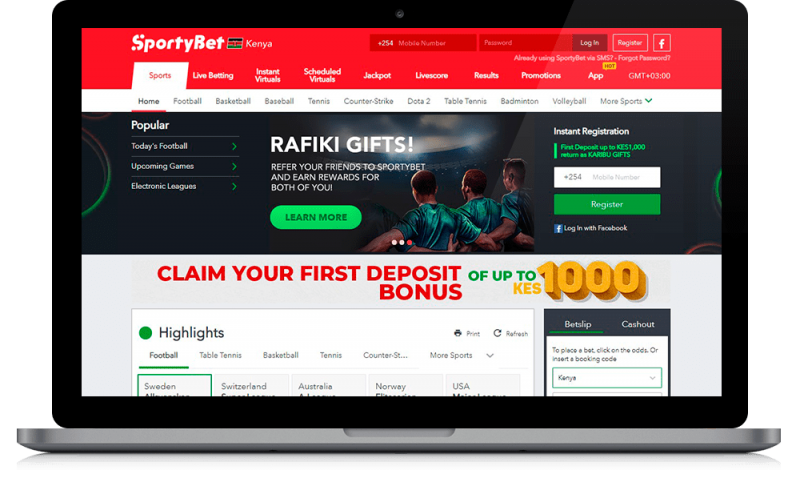 3 Main Reasons that should inform Your Decision about Joining Sportybet
First deals with the ease with which the bookie's app, web and lite domains loads without lagging or glitches. The second aspect dwells on its profound provision of its profitable odds and promotional offerings.
And third reason to consider is that it has operational license and haven't had any form of leak or security breaches that tend to compromise client's records at any time
Sportybet Rating
| | |
| --- | --- |
| | Ratings/10 |
| Design & GUI | 8,5 |
| Odds, Betting & Sports Markets | 8,5 |
| Promotional Offerings | 9 |
| Features & Functions | 9 |
| Payment Options | 10 |
| Website, Lite, Mobile & App | 10 |
| Customer Service & Support | 8 |
| Security and Reliability | 9 |
Bookie's Pros / Cons
For merits that make Sporty bet thick and most valued among other bookies operating in Kenya these are qualities that make it stand out: easy loading and processing time both on app, lite and web editions of bookie's platform.
Detailed arrangement of wagering features and functions on its platform. Security of customers is held as one of its top priorities. Wonderful well-paying bonuses and promotional offers. There's round the clock client support service; good simulated or virtual games; clients can only cashout in part and a signup bonus for new entrants.
For demerits, there's some bonuses come through gift wagers, absence of Asian handicap and debits charged for certain funds lodgement and absence of casinos.
Wagering Alternatives, Live in-play and Livestreaming
Major wagering alternatives every punter should consider are as follows as presented on bookie's web domain according to our review: simulated or virtual games – instant and scheduled; jackpot and live wagering.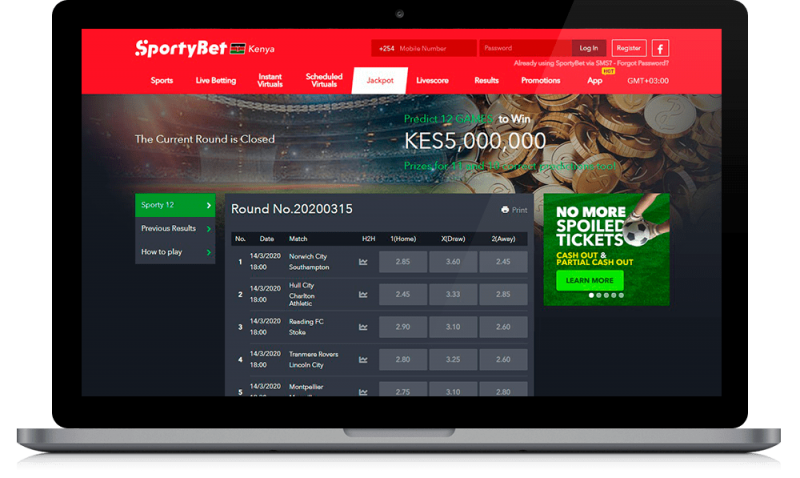 Regarding live in-play on Sportybet Kenya, you're greeted with sporting activities going-on live where you're able to track goings-on on all activities as with accurate and timely statistics on all covered sporting types like football, tennis – table and lawn, handball, volleyball, basketball, ice hockey, cricket and other as listed on the left.
Also, one fantastic thing you can visualise herein is the expressive style visuals are presented.
Every bettor has the opportunity to choose the particular suitable pattern of viewing and following sporting events plus gaming events like DOTA and League of Legends.
You could settle for Single view (which only concentrates on one chosen sporting activity you've wagered on). Whereas for multi-view you can follow up multiple gaming or sporting activities you've wagered on at the same time uninterrupted as you can see below.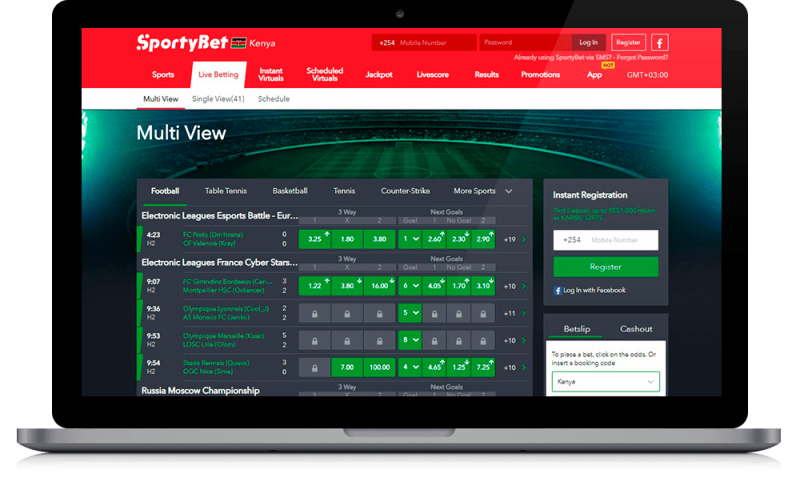 It's regrettable to disclose that a livestreaming function is unavailable on bookie's platform. However, Sportybet found a way to close-up such lacuna by bringing on the in-play function with simulated visual effects based on goings-on of any sporting or gaming event going on.
Wagering Limits for Stakes and Payouts
To ensure that every wager accounts and counts for the purposes it's done for on Sportybet Kenya, customers are advised that bookie have kept the highest possible stake ceiling at 500000 Kenyan Shillings for any wager totalling below 500000 Kenyan Shillings for any given ticket. On the other hand, the highest possible payout is pegged at 1000000 Kenyan Shillings; whereas payouts related to Jackpot wagers is boundless.
What Sportybet Welcome Incentive Looks Like?
However, it suited Sportybet Kenya to float a few bonuses schemes captured under its series of rolled out promotional offers.
As expected like other bookmakers do, there's a Sporty bet bonus for first-timers who joins the platform and as well lodges inceptive funds for wagering after a fruitful process of enrolment; this Sportybet bonus is worth to the tune of 1000 Kenyan Shillings.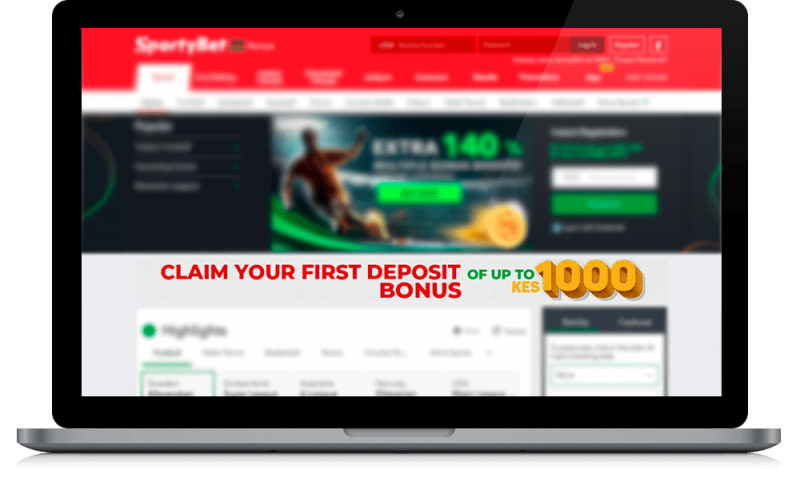 Promotional Offerings on Sportybet
Bonuses fall under promotional measure adopted by the bookie as a way of attracting gamers and also reassure its numerous clients of the need to remain loyal and consistent in their wagering activities. Hence, the evolution of sportybet bonus, which we shall highlight herein in the course of this review.
Another icing on the gambling promo offerings declared as part of Sportybet bonus is the Karibu gifts which is to the tune of 1000 Kenyan Shillings.
This offer is dished out once to any punter on the bookie's platform after making an inceptive cash lodgement of either 50, 100 and so on in Kenyan Shillings.
There's another featured Sportybet bonus termed the Sporty bet Super Bonus which gives players the ample opportunity to receive 140 percent worth of bonus on multibets; which strictly apply to returns on every gaming activity, every sports marketplace and with 4 real-live wagering picks or higher on 1.2 wagering odds and above.
There are terms attached that regulate how a gamer is eligible for any of these bonus offerings which is clearly spelt out once you check through what's on offer through this weblink.
In a bid to capture a cahce of undecided punters who might be confused on which of the gambling outfits to join, Sportybet bonus welcomed in its list of promo offerings the Rafiki gifts which is meant for already enrolled and consistent players on its platform who convincingly refer newcomers to enroll on bookies platform.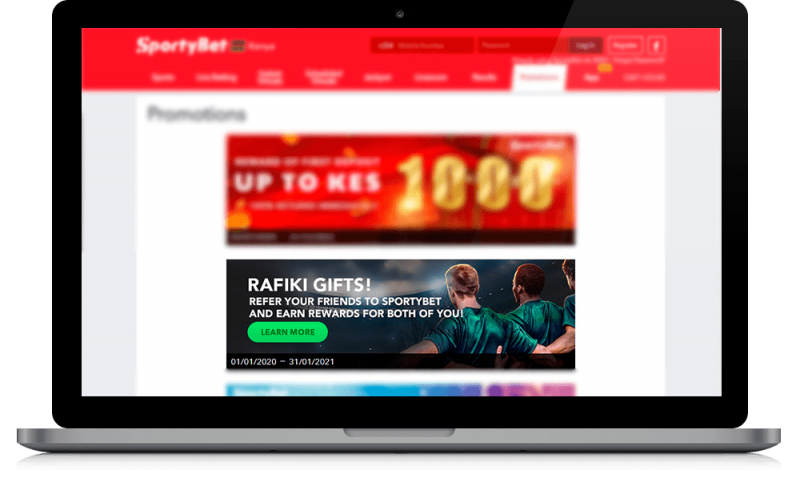 So, the referer is entitled to get 150 Kenyan Shillings whereas the new client gets 50 Kenyan Shillings. But there's a catch to be able to get what you are entitled to newcomer. For the new custoner, you're expected to wager a total of wagers with 2.0 odds or higher which is to the tune of 1000 Kenyan Shillings and also these wagers could be staked on gaming activities on the platform at dissimilar time periods.
Various Sportybet Promotional Offerings
Making a thorough tour on the site is very necessary to ascertain what's current on offer and what's not and how you can get in-depth information on each offering on bookie's platform.
According to our review we think it is a straightforward thing to do by visiting the weblink dedicated for promotional offerings at sportybet.com to see the list of Sportybet bonuses plus other incentives.
Alternatives for Withdrawal and Processing Duration
For every player, a day for mouth-watery refreshment will surely surface through getting his/her winnings in time for that particular purpose. However, there's a way of getting your money out, which is via signing into your user account, and traversing to MY ACCOUNT which prompts a cascading list to show up where you'd have to choose WITHDRAW.
Afterwards, try inputting preferred sum to be withdrawn before tapping the WITHDRAW tab. Once done, your money is transferred to gamers' Mpesa account instantaneously without delay.
Bear in mind that a service charge of 16 Kenyan Shillings is attached to funds pulled out that are less than 500 Kenyan Shillings. Also pulled cash processing time is instantaneous and the limit attached daily for any pulled cash is pegged at 70000 Kenyan Shillings.
Sportybet Cash Lodgement Method
Here's the trick to do that because it's so confusing for many clients. Now, on your mobile traverse to the apps menu and locate the SIM toolkit. Once located, tap it to find Mpesa logo and then tap it. LIPA NA MPESA option is there, where you'd have to insert bookie's Paybill no. 202202, followed by bookie's acct. no.: SPORTYBET.
Then, input your choice lodgement sum and add Mpesa personal identity number in the space provided; proceed to follow subsequent simple commands to ensure success of fund lodgement. You'd surely get a confirmatory text informing you of a successful transaction. Thus, your sum is lodged instantly into your wagering account.
Sportybet Markets and Odds
There are two types of marketplaces on a wagering platform, namely; sports market – showing list of sporting events – and wagering marketplace – which highlights 1x2, both halves (goals to be scored in first and second halves), number of corners for either fulltime or halves of a given game, double chance, GG, over or under, odds (both high and lower in either fraction or decimal formats), showcased on bookie's web, lite or app domains.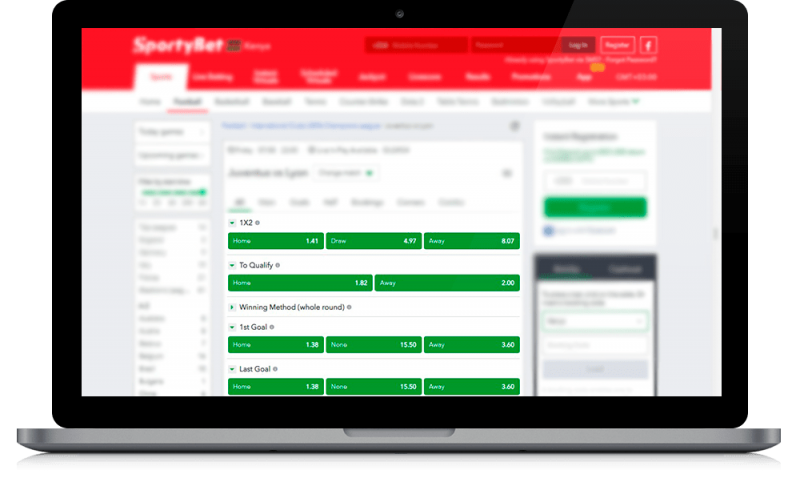 Player's Support Service on Sportybet
This speaks of dedicated communication channel established by bookmaker as Sportybet contacts to enable bettors to air their frustrations about bookie's services, queries regarding some technical issues encountered and other issues associated with wagering on bookie's platform.
Sportybet's App for Mobile
There is always a sense that every app pushed out by any entity should be showcased on either major app stores by Google or Apple. However, such isn't the case when it comes to Sportybet app.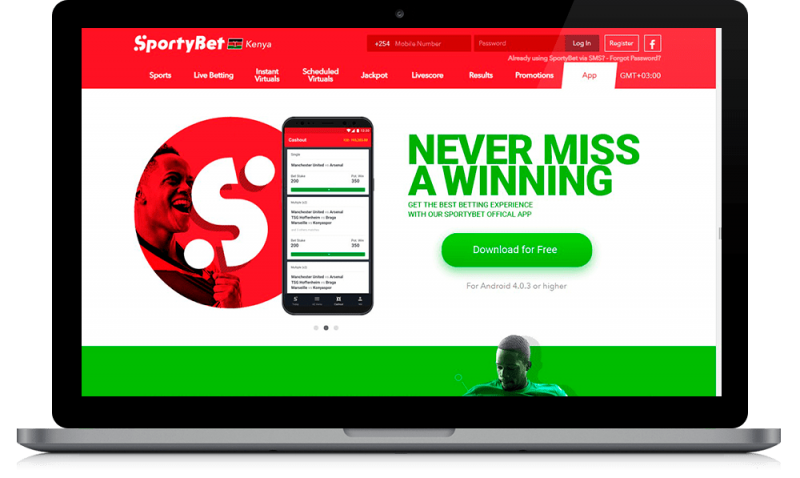 Since it's not on either app stores as stated before, bookie made Sportybet app download so seamless and handy for every gamer to download and deploy via a dedicated link just situated on the first, vast red banner that bedizens the homepage.
There you'd see the APP tab to click which paves way to another webpage setup for solely Sportybet apk. Why? The apk serves as the file containing all properties needed for the app to come afloat.
By what means can I enrol on Sportybet?
It's made possible thru the web domain or by going through this link.
By what means can I lodge wagering cash on Sporty bet?
Kindly, read through the Sportybet Cash Lodgement Method this review has taken time to address to avoid any form of difficulty.
What is SportyBet?
Sportybet Kenya is simply a digitalised platform for wagering; primarily dedicated to Kenyan punters and also bookie has branches in other African countries.
How old must a prospective bettor be prior to enrolling on Sporty bet?
Where is bookie's Terms & Conditions located on site?
It's situated at the base of bookie's homepage.
What's the number of picks that could be made on per betslip?
How may I pullout my winnings?
It's by signing into your user account, and traversing to MY ACCOUNT which prompts a cascading list to show up where you'd have to choose WITHDRAW. Afterwards, try inputting preferred sum to be withdrawn before tapping the WITHDRAW tab. Once done, your money is transferred to gamers' Mpesa account instantaneously without delay.
Does cash pullout attract service charges?
A service charge of 16 Kenyan Shillings is attached to funds pulled out that are less than 500 Kenyan Shillings.
How long does it take for funds pullout to be processed?
How to become the Partner of SportyBet?
You can visit Sportybet web domain and traverse to the base of its homepage to see the link BECOME A PARTNER and tap it or by going straight thru sportybet.com