Palmsbet, though of Bulgarian origin have been able to spread its tentacles worldwide, especially hitting Africa; but stamping its branch of the gambling enterprise on Kenyan soil. First of all, Palms bet came into the Kenya market with a bang of lucrative and feasible odds system affixed to a plethora of gaming activities from different sports categories, plus electronic and simulated games any punter could think of.
There're a coterie of casinos available showcased for several punters to enrich their wagering experiences while enjoying gambling on the platform. Giveaways packages are up for grabs thru a variety of promos and bonuses doled out.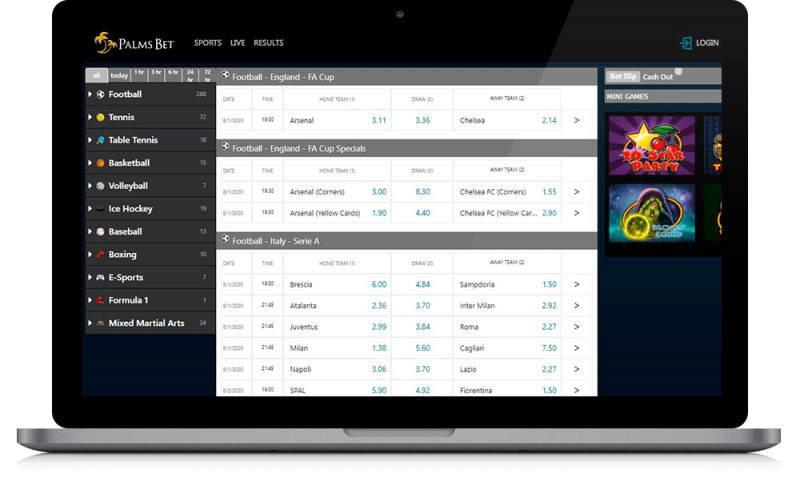 The site is well-developed to accommodate numerous functionalities and features that enable wagering on site expedient. But, here's one thing that needs to be noted about the site. Every Kenya player can access the bookie's web domain thru a secured VPN system due to web restrictions.
Palmsbet Kenya Ratings
| | |
| --- | --- |
| | Ratings |
| Reliability and Security | 6,5 |
| Customer Service & Support | 6 |
| Website & Mobile Version | 8 |
| Palmbets Payment Options | 7 |
| In-play | 9 |
| Features & Functionalities | 9 |
| Promos & Bonuses | 9 |
| Odds, Betting & Sports Markets | 8 |
| Design & GUI | 8 |
Palmsbet Promos and Bonuses
Palms bet Kenya provides her esteemed players with incentives to boost their wagering morale plus bring about increment in their earnings. However, one of these incentives is the Palmsbet Kenya New Casino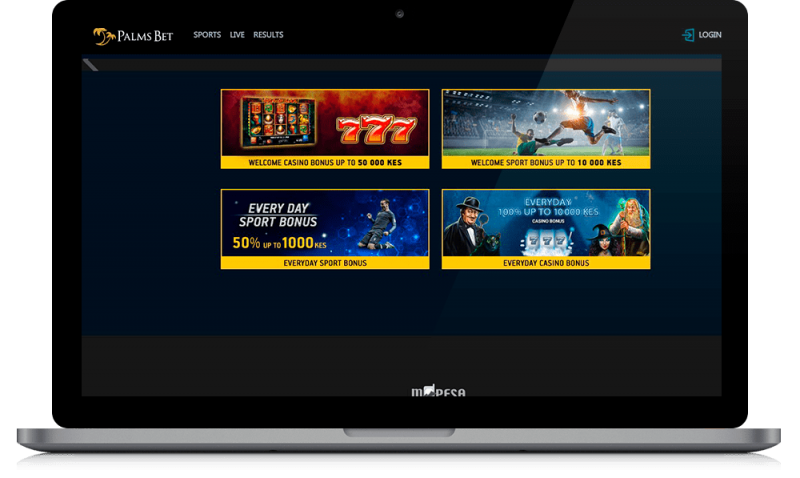 Bonus gifted only new entrants on the platform, who must have, after fruitful signup process, made inceptive fund lodgements into their accounts. This bonus is hundred percent of cash lodgement sum to the tune of fifty thousand Kenyan Shillings; the import of such implies, when a new punter lodges fifty thousand Kenyan Shillings, he/she receives same sum. Note: fifty thousand Kenyan Shillings is the highest possible sum one can receive.
Also, this bonus is open within thirty calendar days of a month with effect from when the lodgement is made. There accompanying terms that apply which a player must meet before obtaining this bonus.
Palmsbet Kenya put up another giveaway in the form of New Sport Bonus, which is exclusively meant for prospective bettors only; which is offered once on the gambling platform. However, this new bettor must make an inceptive funds lodgement.
So, this bonus is designated only for wagers listed on the sports segment on bookie's platform. For the sake of clarity, this bonus is also recognised as Welcome bonus which is transformed as freebet. Like the earlier bonus talked about, this bonus is hundred percent of funds lodged which is to the tune of ten thousand Kenyan Shillings (which is the highest possible sum that can be doled out as freebet).
Here's the catch, if you lodge maybe five thousand Kenyan Shillings, you'd be rewarded with same sum in effect. There're cascading conditions attached that ensures eligibility criteria is met before receiving the bonus.
Palms bet rolled out a superb incentive to captivate gamers and get them stuck on the platform. This bonus is presented daily to players as Bonus Sport Everyday, which is fifty percent to the tune of a thousand Kenya Shillings.
But you must have made some cash lodgements for the respective day. So, it works like magic this way: when you lodge maybe five hundred Kenyan Shillings, you'd be credited with two hundred and fifty Kenyan Shillings in return.
Please note, you can only receive a max of a thousand Kenyan Shilling daily if you meet the laid down criteria necessary for obtaining the bonus. There's also a dedicated validity time for the bonus which is thirty days.
Palmsbet remains reliable vis-a-vis its system of churning mesmerising incentives. They came up with Casino Daily Bonus system; which affords every consistent clients who makes daily funds lodgement on the platform in a bid to wager.
By so doing, you'd earn yourself this hundred percent bonus casino to the tune of ten thousand Kenyan Shillings daily like every other bettor who must have met the terms attached. However, the max sum every punter could earn as freebet per day is pegged at ten thousand Kenyan Shillings. So, if you've lodged maybe five thousand Kenyan Shillings for the day, you'd get another five thousand Kenyan Shillings.
There's an inherent validity window of thirty calendar days before for its usage before its expiry.
Describing Palm Bet
Palmsbet Kenya is a perfect fit for all wagering processes as hosted on bookie's platform. The web domain is occasionally upgraded to meet current tech attributes.
The homepage is well-arranged with beffiting simplicity with sports marketplaces well-arranged in categories on extreme left of webpage in a cascading manner, then the central part of bookie's homepage displays all scheduled fixtures for every gaming activity both on-going and future ones together with lucrative odds accompanying them.
Any observant player would discover that Palms bet Kenya lacks developed smartphone-based apps on major OS like android, Windows and iOS; making it quite difficult for the current army of younger betting generation in Kenya to be left out with frustrating feelings.
The light colour separation inculcated in designing the web domain of bookie makes it pleasing and suitable for aesthetics, plus making it easy to load. So, navigating from one segment and webpage is with ease devoid of lagging or unnecessary delays.
Getting to the point of accessing other weblinks on the web domain is also another great attribute; just located at the base of bookie's homepage, likes Help tool, online live chat, contacts and promos, plus many more.
Payment Modalities on Palms Bet Kenya
Making either cash lodgement or funds pullout is made easy through the widely accepted payments scheme enabled via smartphones in Kenya, called Mpesa.
However, to make funds lodgement, Mpesa is the realest deal without hitches in a jiffy. The step-wise process involves opening Mpesa menu (where you'd use Safaricom), then choose Lipa na Mpesa, afterwards a list opens up displaying Paybill, tap it to input designated Biz No. of Palmsbet Kenya - 718085, then leave the Account No. space unfilled before proceeding to inserting the required sum, then attach your personal identification number before sending.
For pullout of earnings, you'd need to sign-in to your bookie's account page palmsbet.com. After successfully entering the page thru your login data, move to your Account's segment to choose Withdraw, followed by entering predetermined sum before hitting the tab.
Palm Bet's Web Domain
Bookie's web domain is its central point where every manner of wagering activity that suits a diversity of bettors is carried out daily and smoothly. Though there are problems associated with the web domain due to lack of optimisation; using your smartphone is the best decision you can make.
Palms bet Kenya solely relies on its site to remain afloat in the digital wagering niche. So, to gain entrance on the site is only thru inputting correct user data for sign-in, bear in that the desktop platform works best on portable smartphones.
Wagering Rules Guiding Palms Bet
Every prospective punter aiming to join Palmsbet Kenya platform should be 18+ - the legally responsible age to engage in gambling. Bettor is solely responsible for securing his personal user data.
If there are issues amounting to controversy, it should be lodged within fourteen days after wagers are settled. Wagers shall be rendered void if a player is deemed to have exerted some influence upon a gaming event - this might include the use of customised softwares used to hack potential winning stakes. Also, gamers are permitted to do cashouts on wagers.
Gaming Events Featured on Palmsbet
Palms bet floats major gaming categories that are widely accepted like virtual sports comprising motor, horse and dog races; football - both simulated and live matches, tennis - simulated and live, volleyball, ice hockey, badminton, baseball, electronic sports - like PS action games, futsal and table tennis.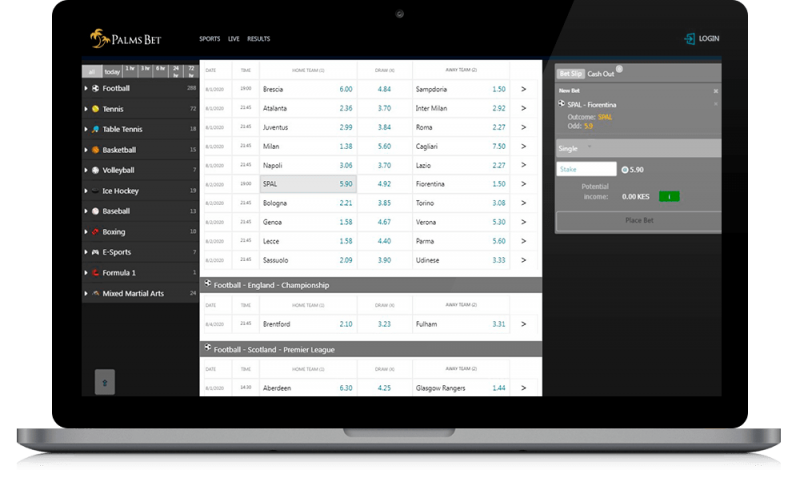 Wagering Types on Palmsbet
Palmsbet Kenya features numerous lucrative wagering types which include: system, single, accumulator, combo and treble wagers.
Football Wagering
On Palms bet football is popular and that's where their central activity lies most because of lucrative odds attached to many football markets.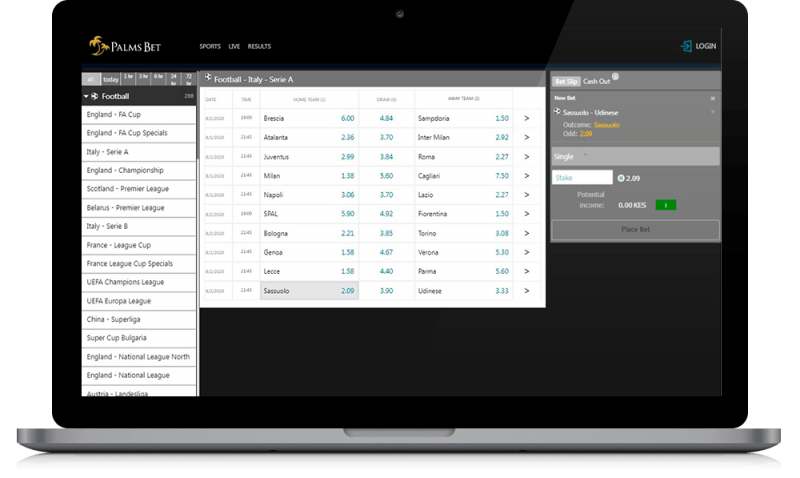 However, the wagering markets on football segment ranges from 1x2, thru handicap, first and second half to score or win, number of fouls committed and so on.
Livestreaming of Palms Bet Kenya
The bookie shows apparent lack of the livestreaming facility. That's a downside for sure, but the absence of it might not be unconnected to the rebuilding of the web domain which is on-going in order to revamp the site for betting gaming.
But, there is a livestream of virtual gaming events which fills in the gap created by not having livestream events.
About Palms Bet's Wagering Odd Limits
One distinct attribute loved by many players is the non-availability of limit to wagering odds attached to any of the sports marketplaces on bookie's platform.
Palms bet Casinos
Palmsbet Kenya's unique array of electronic board games which the bookie considers very important to serve her army of gamblers.
The Casino segment is enriched with assortment of games rendered in three categories: slot, table games and live casino.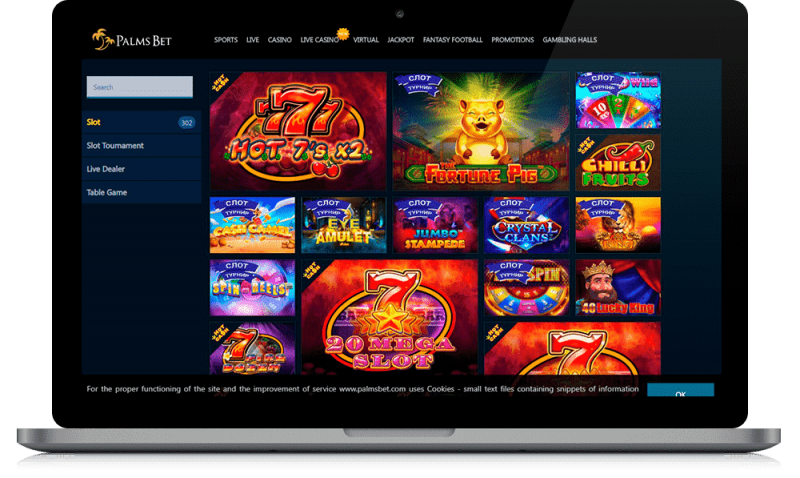 Palms bet: Kenya's Contact Channels plus Client Support Service
Attending to queries emanating from bookie's web domain during wagering process is one of the best features that any punter considers in light of necessity should in case an unforeseen circumstance arises.
Anyways, Palms bet Kenya introduced reachable channels all day, round the clock the whole 365 days of the year for communication thru electronic mail at support@palms.bet , thru phone line at 254728509838 and thru an online livechat facility.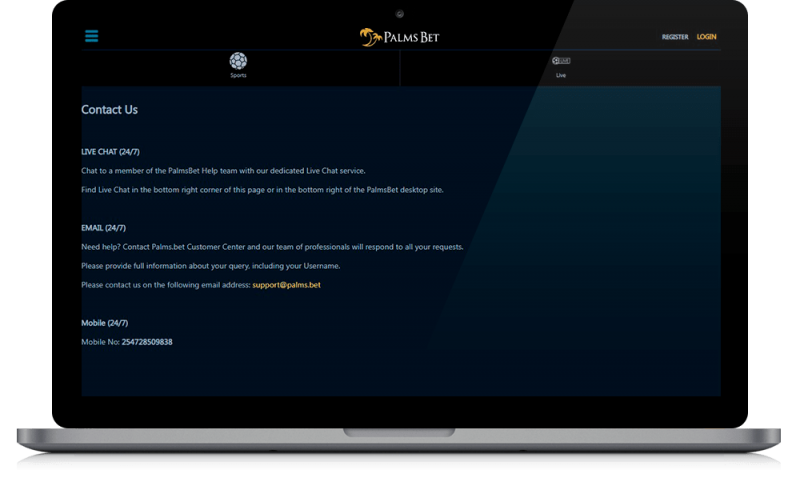 Enrollment on Palms Bet Kenya
Enrolling on bookie's platform means knowing the right process to follow in order to actualise it.
Hence, the right step is by going to Palmbet web domain at palmsbet.com then locating the REGISTER tab, then tap it to unfurl the electronic enrolment form.
After filling up the unfilled spaces, ensure to check two tiny boxes to affirm that you've consented to the conditions of the bookie and also that you of responsible gambling age (18+), before tapping the REGISTER tab.
Mobile Application for Palmsbet Kenya
Unfortunately, bookie doesn't possess any dedicated app for either Android, Windows or iOS.
Is there availability of mobile edition of bookie?
It's more seamless and most recommended for use by all punters.
Can I locate a weblink to get iOS and Android or are they on Play Stores?
Not at all. They aren't provided.
Is there availability of mobile app Palms bet for Windows Phone?
There's no such provision by bookie.
Can bookie's web domain be launched thru portable smart gadget?
On Palms bet Kenya mobile edition, can I access live bets?
Live bets are accessible.
Can a bettor locate Palms bet Casino tab on portable gadgets?
All functions and facilities of bookie are easily accessible plus casinos.
Is there inceptive registration bonus for new entrants?
Yes, but in the form of freebets but not welcome bonus.
Is bookie's site browser-sensitive?
Not quite so, it loads on all web surfing apps or browsers.
What's the possibility of enrolling thru bookie's mobile site?
Every prospective bettor can enrol thru mobile site of Palms bet.