Shabiki. com is one confusing but peculiar bookmaking enterprise that has defined its own unique modus operandi in a manner of wagering and other services related to gambling.
Shabiki bet is out of ordinary, much commendation to the energy channelled into their very aggressive marketing approach through mass media mostly. Also, joining this betting outfit is easy, but only for adult from 18 and above; which is through Short Message Service, attracting an insignificant cost of two Kenyan Shillings.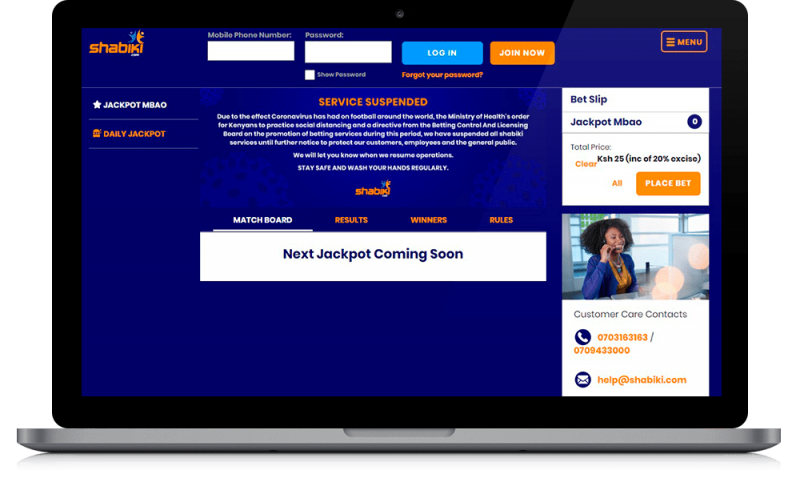 Finally, everything about Shabiki com is solely based on its jackpots; for professional punters, this suits their prowess, but you never can tell how good you are if you don't try with as small as twenty Kenyan Shillings.
How Shabiki is Rated
| | |
| --- | --- |
| | Ratings (over 10) |
| Design & GUI | 7 |
| Security & Reliability | 10 |
| Customer Service & Support | 7 |
| Website, Mobile & App Versions | 5 |
| Payment Options | 7 |
| Feautures & Functionalities | 6 |
| Promos & Bonuses | 6 |
| Odds, Betting & Sports Markets | 4 |
Shabiki Promos and Bonuses
Shabiki Kenya according to our assessment, affords its customers a few bonuses for their gambling delight. We noticed that Shabiki betting is jackpot-based. To give insights bonus earnings, players need to understand how to play Shabiki.
The daily jackpot instituted by Shabiki is the getway to your bonus reward. Through this system, a client is expected to render thirteen choice predictions on selected matches (football) without mistake in order to win two hundred and fifty thousand Kenyan Shillings as daily jackpot, on winnings are bonuses added when a punter correctly forecasts from twelve, eleven, ten, nine, eight, seven and six matches.
Basically, as we discovered, Shabiki .com bonus scheme works as a pairing, that's to imply that daily Shabiki jackpot, Shabiki Power 13 have bonuses attached to each of them. Earning a bonus from each of them is hinged on playing either jackpot.
Also, for Power 13 as mentioned earlier, players have two choices to make, that's either to play for either of Power 13's jackpots slated for midweek or on weekends, either showcases thirteen matches, meaning that any prospective winner must correctly forecast all thirteen which attracts a prize of twenty million Kenyan Shillings, plus bonuses for any player whose predictions on twelve, eleven, or ten matches are correct.

Shabiki Description and Desktop Features
Shabiki betting site can best be described as a simple purpose platform meant for wagering on football games in order to win a jackpot. There are no other games featured on the platform except football.
The architectural design of bookie's web domain is simple and direct, connoting lack of issues while traversing the site's webpages for other wagering purposes.
The background as seen in snippets laid inset shows a broad deep blue colour just to provide some aesthetic warmth. The first long banner adorning the first stretch of the topmost part of the homepage; from the far left to extreme right, houses the Shabiki corporate logo, spaces for cellphone number and password, light-blue log-in bar, conspicuous orange-coloured Join Now bar and site's menu bar.
The central part of bookie's platform contains the wagering central area where games are highlighted for picks and wagering (centre), to the right (betslip and client service contact channels) and to the left (the types of jackpots featured). Just below the central area are matchboard, published match outcomes, names of gamers who won; and the rules governing wagering.
Shabiki Kenya Mode of Cash Lodgement and Pullout
Shabiki Paybill number is the way to make it happen seamlessly. After successfully mastering how to play shabiki online, what subsequently follows is lodging your wagering funds into your account, following a step-wise process thru hitting Mpesa Menu labelled LIPA NA MPESA, then traverse to Paybill Number by inserting 290063, followed by inputting account no.: SHABIKI. Subsequent step is inputting client's preferred sum; then followed by Mpesa Personal Identity Number prior to submission by hitting OK.
Before embarking on issues that dwells on financial transaction regarding funds pullout on Shabiki, it's advisable to follow some rules on how to bet on shabiki; in order to avoid conflicting issues. For funds pullout, nothing much of a magic is necessary by just dispatching the following through Short Message Service: W#SUM to 290063, i.e. to pull out any preferred sum, say 1500 Kenyan Shillings; just text: W#1500 to 290063.
Please note that Mpesa service charges apply. For funds not up to a 1000 Kenyan Shillings a bettor is charged 16 Kenya Shillings; whereas for funds higher than 1000 Kenyan Shillings, a client pays 23 Kenyan Shillings as charges. Also, 2 Kenyan Shillings apply for texts sent.
Shabiki Online Rules
As far as we know it, Shabiki. com follows and maintains same general standard rule and regulations that guides every bookmaking operating on the Kenyan market; which are as follows: every prospective gamer must be 18+ and above.
Every player is restricted to wagering from one account liked to one mobile phone line and must have all his/her user data correspond with what is provided while enrolling on the site. Bookie reserves every right to terminate any won or placed stake if a punter violates laid down rules by bookie.
Showcased Shabiki Sporting Events
Unfortunately, there isn't no other gaming events offered by bookie except only football.
Shabiki Wagering Types
There are popular wagering types on Shabiki bet. The autobet - an algorithm generated wager via random numbers aimed at forecasting goals, i.e. from 0 to any number. This system is predicated on the slot system.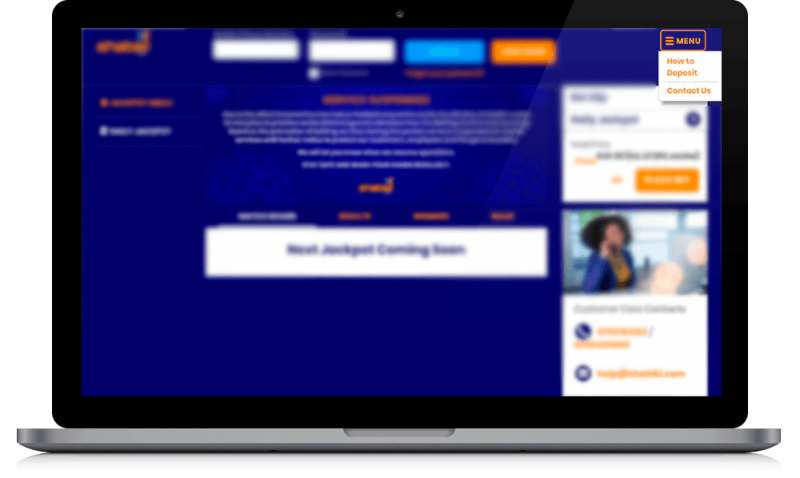 Here's how the system works in a bid to stake an autobet; thru Mpesa send twenty (for 1 AB) or forty (for 2 ABs) or sixty (for 3 ABs) or eighty (for 4 ABs) or hundred (for 5 ABs) Kenyan Shillings to 290063, followed by inputting the account no. as: SJM#AUTO. This action triggers the generation of randomised number(s) depending on the number of autobets; preceded by confirmatory text. Bear in mind that text charges of two Kenyan Shillings apply.
On Shabiki Kenya, a client can decide to wager using the ownbet alternative which grants the customer to express some freedom exercising educated guesses of outcomes on chosen game fixtures. So, staking your wager entails dispatching just twenty Kenyan Shillings thru Mpesa to 290063, followed by inserting account no.: SJM#Predicted game numbers, i.e.: SJM#01234M0123. When done, a confirmatory text pops-up via text on your smartphone.
Means of Shabiki Football Wagering
This aspect has been succinctly described in the immediate previous sub-topic.
Shabiki Livestreaming and Wagering. What's Shabiki Good About?
There's no livestreaming facility on Shabiki .com. Shabiki can be attested to be an innovative way of using the slot system of gambling in giving wagering on football another form of window of opportunity regarding ways of garnering cool winnings or multiple earnings to a bettor, which is totally different from ways other bookie's consider wagering.
Shabiki Odds and Limits
In respect of odds, Shabiki bet is equal to the task in the sense that odds made available on its platform are quite higher than what's presented. Odds vary from 2.50 to 6.00. Fortunately enough, there are no limits on wagers staked daily on Shabiki Kenya.
Shabiki Casino
There's no casino facility on Shabiki betting.
Shabiki Kenya's Contact Channels plus Client Support Service
Attending to queries emanating from bookie's web domain during wagering process is one of the best features that any punter considers in light of necessity should in case an unforeseen circumstance arises.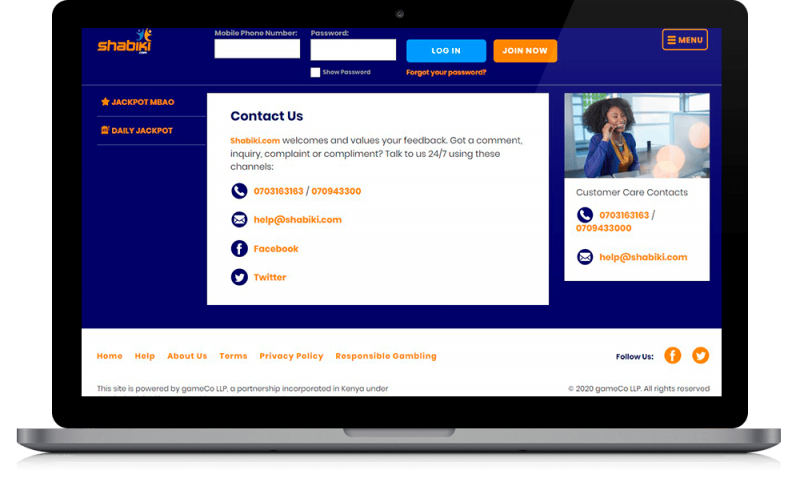 Anyways, Shabiki bet introduced reachable channels daily, round the clock the whole 365 days of the year for communication thru electronic mail at help@shabiki.com, thru phone line at 0703163163 or 0709433000.
Security and Trustworthiness of Shabiki Betting
Due the sensitivity associated with handling customer data and financial details, Shabiki deemed it necessary to bring up a devoted team of tech experts who handles their platforms security and shielding it from external attacks.
Also, they ensure that the platform is built and reinforced with state of the art IT network backbones.
Enrollment on Shabiki
On Shabiki betting site, you can proceed to enrollment to become part of the wagering community of bookie thru hitting the short orange JOIN NOW button on the homepage.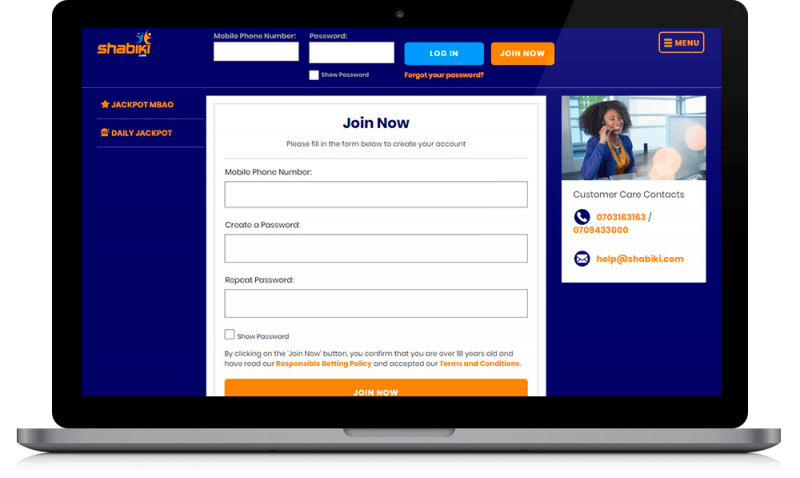 After tapping the orange button, a webpage opens with an enrolment form where all user personal detail.
Shabiki Mobile App
Regrettably, there is no app provided by bookie.
What does it entail to play Mbao Shabiki Powerball?
Here's how the system works in a bid to stake an autobet; thru Mpesa send twenty (for 1 AB) or forty (for 2 ABs) or sixty (for 3 ABs) or eighty (for 4 ABs) or hundred (for 5 ABs) Kenyan Shillings to 290063, followed by inputting the account no. as: SJM#AUTO. This action triggers the generation of randomised number(s) depending on the number of autobets; preceded by confirmatory text. Bear in mind that text charges of two Kenyan Shillings apply.
What's the enrollment pattern for Shabiki Power 13?
This is achieved thru dispatching a text: JOIN to 29063
Does Shabiki jackpot have bonuses?
What's the enrollment pattern for Shabiki Jackpot Mbao?
Kindly, thru a text, send: JOIN to 29063
How to enrol at Shabiki?
It's by going through the website at shabiki.com
Is money involved in enrolling on Shabiki?
Is it possible to cancel my Shabiki subscription?
Just by text, send: STOP to 29063