It is different than the other online sites which work in Kenya. Its offer of daily jackpot makes it shinning among its competitors. This article will give you a glimpse into the working scenario of the website.

We will cover the pros and cons of the website and will also lead you to the exact working strategy. Here you will have a guideline that how to get registered on the website and be its active part.
What Kwikbet Offers?
Along with the daily jackpots, it covers 6 sports which other gambling websites of Kenya do not cover. It provides a list of feasibilities in the betting industry such as punters only have to predict the final outcome from 7 matches of the game.
This is an amazing offer as none of the competitors of Kwikbet is offering it. They make the selection difficult by giving a prediction option after the selections from 13 matches or more.
It also provides feasibility for mobile users. You can work with the feasibility of your home. The process is really simple; you will have to reach your cell phone and place a small stake means players stand a chance to get through the game.
There are some terms and conditions which you need to follow. Although there are some problems with the interface of the website, yet it is working well in the industry.
Pros
There are numerous pros of the website like:
It offers an affordable and lower amount to bet on the games. It facilitates smaller investors to come and take part in the process.
Jackpot amount is also affordable, and people with smaller pockets can come and take part in it.
You will get daily jackpots, and they do it will full continuation.
You will not have to make too many selections. It offers only 7 selections to make predictions; it increases the process of betting simple and smooth.
Cons
Along with the pros, there are numerous cons as well. So, never forget to go through the cons which are listed below, and it is always a better suggestion to do more research as well.
This article has been written only for the legal educational purposes to give an idea that what are the pros and cons of this website.
Kwikbet charges a lot when you will move forward to process your withdrawal.
It supports Mpesa transaction only so you will not have more options to play with.
The website interface is so poor, and you will get confused in most of the navigation bars.
There is not a clear question and answer section on the website.
You cannot have a live betting facility on the website.
The website is deficient of promotions and discount offers.
They do not own any social media platform, and it will be difficult to find them on most of the places due to this reason.
This website has limited reach.
You will find problems in cashout as it is not available on the website.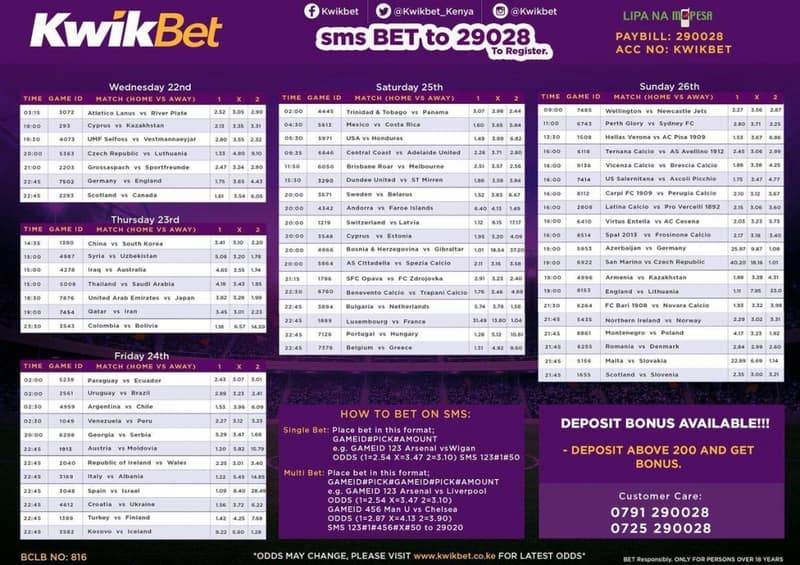 Conclusion
This website needs a lot of improvements as compared to other providers. Their jackpot feature makes them prominent among the competitors. There is a lot of problem of the navi9gation on the website, and all the buttons are not functional.
They don't offer live betting while leaves the clients in the strong perplex. It is advisable to get involved only in those activities which are legal, and we don't recommend going for a betting business.
WEBSITE LANGUAGES
English
CONTACTS:
0791290028