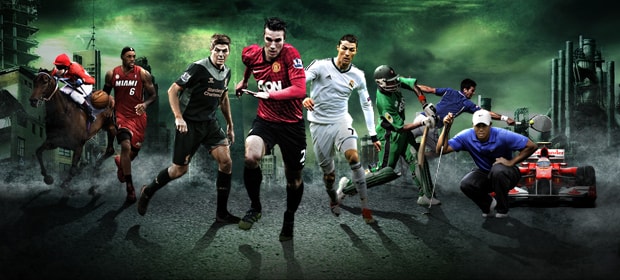 Betting online venture has grown in Kenya and most people are aware of there being online betting services only that some people lack essential knowledge on How to bet online.
Most aspiring Kenyan possible gamblers may not know what happens in online betting as online betting is popularly referred using betting site's name that's using the name of the most prominent bookmaker "SportPesa Kenya".
That's why you will occasionally hear peers asking each other if they are "seeing SportPesa" in the course of the day to mean whether they will bet that day.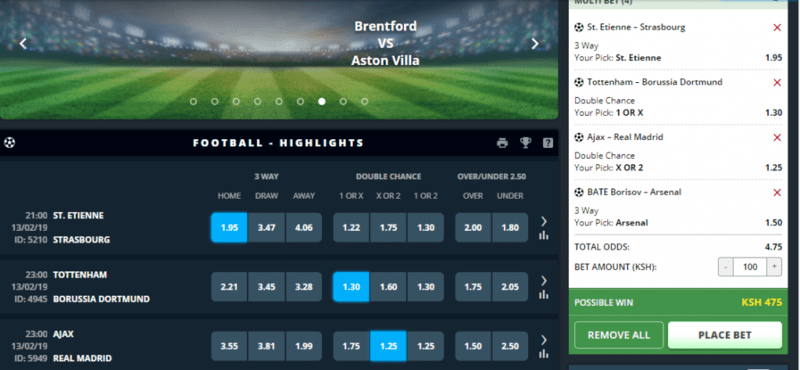 Online betting relies on the different online portals provided by betting sites and these are the betting company's betting website or betting Apps. The two are the key online betting platforms hosting all betting resources offered by different betting companies.
Under this review on How to bet online, we shall be using 1XBet and Sportpesa as our example for illustration purposes due to the betting site's large market pool and numerous betting features which are simple to understand. Online betting allows punters to bet on different markets offered depending on the betting site's resources.
Betting markets entail; Sports betting, Casino betting, Virtual betting, Jackpots, and Live Betting. Online betting services may or may not cover premium betting facilitation services such as; live scores, statistics, fixtures and live streaming of matches. These services happen to be a great boost in the course of bet analysis and live betting thus increasing the punter's chances of hitting the bookies.
Anciently gambling was done through physical betting shops which made the betting venture kind of expensive and limited to only people near these physical premises of the betting companies. Therefore online betting has improved the coverage of the bookmaker services thus availing betting services to almost everyone.
This review will highlight the whole online betting idea that's from enrollment to placing bets and collecting of wins; and the process is very much the same in all bookmakers.
ACCESSING THE ONLINE BETTING PORTAL
The first step would be accessing the website or Application of the betting company you want to bet with. There are many betting companies in Kenya with the most popular ones being:
SportPesa
1XBet
Betin
Sportybet
Betika
Those are just some of the betting sites in Kenya and there many of them with even new ones encroaching into the multi-billion Kenyan betting industry such as Betlion.
REGISTER WITH THE BETTING SITE
One must be a registered member to bet with any betting site. After accessing the betting site's website navigate to the registration icon which must be very much visible on any bookmaker's home page.

After pressing on the registration button, the gambler should be redirected to a registration page where you fill in your personal details and secure your account with a password.
The type of information varies depending on the bookmaker a gambler is registering with. After registration, now the gambler becomes a member of the betting site and one is able to access all betting resources availed by the particular bookmaker.
To access these markets and maybe bet, be sure to sign in/ login then maybe navigate through the different features availed by the betting site.
HOW TO DEPOSIT CASH INTO BETTING SITE WALLET
All betting sites have provided means of depositing cash with at least one pay bill number. The most linked payment method involves m-pesa pay bill and there is no bookmaker without the Safaricom m-pesa link considering that Safaricom Kenya is the main mobile services provider in Kenya.
For anyone to bet on any market provided by the betting site of their interest, they must have a stake and thus the essence of depositing to the bookmaker's wallet. Visit the betting site or betting app of the particular betting company and there will be a pay bill number displayed at any location of these platforms.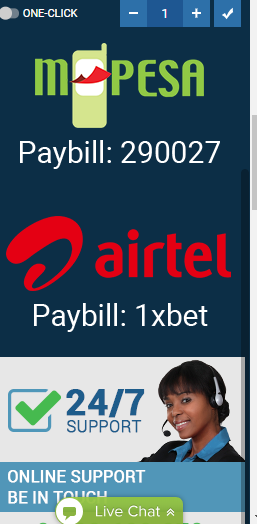 Otherwise, access the payment feature of the betting site to access all payments information and guidelines on how to deposit. In all cases, payment with M-Pesa follows a basic procedure;
Visit m-pesa menu, paybill
Insert paybill number (Provided by the betting services company)
Enter the account number(Provided by the betting services company)
Enter the amount you need to deposit
Confirm payment.
ACCESS THE MARKET
The other step would involve the punter navigating through the betting site to access the different markets offered by the betting site. Markets vary depending on the betting site but the basic market which soccer is always availed almost all betting sites except for purely casino betting sites.
After getting a market you are comfortable with, be sure to check through all possible bet combinations and also explore all betting options. Don't limit yourself to one betting site or market as different markets offer varying levels of winning possibility and the bookmakers offer different betting resources to customers.
PLACE YOUR BET
After identifying the market you want to bet on, proceed to place your bet by clicking your selection either via the betting website or betting app. Once you click on any betting option, the selection is added to a bet slip which automatically updates upon addition of more selections.
Once you have all your selections in place, enter the stake amount on the "Bet amount" box at the bottom of your bet slip then click on "Place bet". You may or may not receive a text confirming that your bet has been placed depending on the betting site used.
CONCLUSION
Betting online is not and has never been a challenge as it takes a very short time to grasp. The only basic aspects to know on betting online is registration, depositing cash to your bookmaker account, navigating to the market you need, making your selections and placing the bet.